Our Mission:
To think

differently

and

collectively

, in order to create a vehicle that will inspire a

passion for learning

,

character

,

innovation

, and

social responsibility

.
Please Note

: PSSA scores will
NOT

be averaged into a student's grade point average for the 2017 - 2018 school year.
Our Plan

: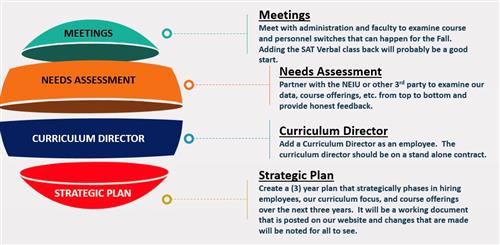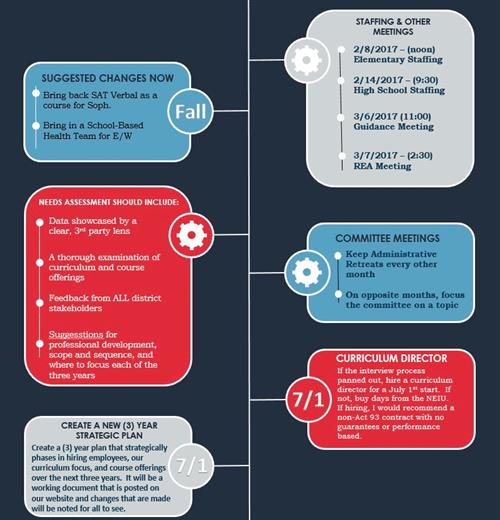 Prior Movements:
2016 - 2017 SY
- We REDISTRICTED our two elementary schools with a goal of providing better
collaboration
for student achievement, a focused attention on school readiness and enhancing district unity by positioning our students so that they are together as a Viking from day one.

2016 - 2017 SY
- We took back an Autistic Support class (grades K-3) at Riverside Elementary WEST. This allowed for our autistic students to be educated within the walls of our schools. It eliminated wasted instructional time traveling and allowed for us to have our teachers instructing and assessing our kids. It also was a cost savings to our district by keeping taxpayer dollars at home rather than paying high tuitions for our students to attend elsewhere. It also allows for us to bring in outside students and charge tuition if we feel that they are a good fit for our classroom.
Key Hirings and Replacements:
08/12/2013 Derenick, Suzanne (Occ. Therapy) <shared w/ OFSD>
08/12/2013 Winters, Natalie (Health / PE)
12/05/2013 Cavanaugh, Ryan (Multiple Certs.)
10/14/2016 Trescavage, Jessica (Spec. ED)
10/14/2016 Vitale, Matthew (Sch. Psych.)
08/10/2016 Krajewski, David (Mathematics)
08/10/2016 Plisko, Jessica (Science)
09/10/2015 Brunetti, Mallory (Mathematics)
02/08/2016 Farina, Karla (PT - Health / PE)
02/08/2016 Smith, Justine (Elem. ED)
02/08/2016 Oustrich, Toni (Elem. ED)
04/11/2016 Yarem, J.T. (K-12 Crisis & Compliance Counseling)
06/06/2016 Howey, Kristy (Spec. ED)
10/11/2016 Hayden, Renea (Spec. ED)
12/12/2016 O'Hora, Lindsey (ESL / Spanish)
Recalled From Furlough:
08/12/2013 McDonough, Lisa (Elem. ED)
09/03/2013 Bennie, Andrew (Elem ED)
09/02/2014 DeAngelo, Elizabeth (Elem. ED)
09/08/2015 Insalaca, Pam (Mathematics / Tech. ED)
Our Progress

:
1.) What are we doing now?
Meetings for STUDENT ACHIEVEMENT:
3/6/2017 (5:30 p.m - 8:45 p.m. - RHS Library - Public Session) Mr. Brennan rolled out a proposal to the school board to enhance student achievement that consisted of four (4) components. The board provided feedback and approved the proposal and the four step proposal will begin the next day. <see Board Proposal>

(

attending

: Armstrong, Bieber, Brennan, Emiliani, Fedor, Joyce and McHugh).
3/7/2017 - Mr. Brennan contacted the NEIU 19 to start working on Component 2 of the proposal (A District Needs Assessment). The proposal calls for the outside eyes of trained curriculum experts to examine our data, programs and curriculum. The proposal states that outside eyes are unbiased and an important factor in analyzing the strengths and weaknesses of our district. Mr. Brennan estimated 20 - 40 days for the Needs Assessment to be completed. The NEIU staff will bring the proposal to their staff for further discussion.
3/20/2017 - <refer to NEIU 19 Needs Assement - below> Mr. Brennan received notification that the NEIU 19 would be interested in completing the Needs Assessment. They met with their staff and have recommended a seven day K-12 Needs Assessment blitz. There will be a Science Curriculum expert, a Mathematics Curriculum expert and an English/Language Arts (ELA) Curriculum expert on the team. One of the experts on the team is also an expert with the Pennsylvania Added Assessment System (PVAAS) - (

www.education.pa.gov/PVAAS

). The K-12 Needs Assessment will encompass all phases of district curriculum, assessment and instruction components. After thorough analysis, a Needs Assessment / Evaluation Report will be produced.
3/27/2017 (10:00 a.m. - 11:30 a.m. - Superintendent's Office). A meeting to firm up the expectations in the proposal for the Needs Assessment. The challenge will be getting everyone's schedule together, but we are shooting for a mid April assessment.

(

attending

: Brennan and C. Mecca)
3/28/2017 (12:30 p.m. - 1:10 p.m. - Elementary East Conference Room) Meeting to review the NEIU 19 proposal (attending: Brennan and C. Emiliani, District NEIU 19 Rep).
4/6/2017 (3:45 p.m. - 5:45 p.m. - Administrative Office Conference Room) Meeting for student achievement and Thinking Outside the Box for grades 7 and 8. (

attending

: Brennan, Moceyunas, Walsh and Chisdock)
4/7/2017 (12:00 p.m. - 2:45 p.m. - RHS Auditorium) A meeting with the 7th and 8th grade faculty. The focus was on the following goals:

Brainstorm to receive faculty insight for strategic change
Identify key teachers /leaders who will become part of the reform process for moving forward
(attending: Brennan, Byrne, Chisdock, Cicale, Cole, Davis, DiStasi, Fox, Geise, Gerlach, Haduck, Howey, Judge, LaCoe, Lindsay, Ludwikowski,
McGee, Moceyunas, Radle, Solomon, Taylor, Walsh and Wasalinko)
2.) Needs Assessment:
When? April of 2017
Request

:
RSD requested a comprehensive needs assessment in the following areas:
A full needs assessment K-12.
Analyze data, examine course offerings, programs, alignment suggestions, interviewing teachers, student surveys, etc.

Provide suggestions for a focus – (Ex. YEAR 1 – YEAR 2 – YEAR 3)

Examine current schedule and courses (5-8

th

grade ) and provide suggestions
The Scope of the Work

: A CLEAR LENS....
A visiting team from NEIU will conduct a seven-day needs assessment at Riverside School District including two days of administrative consultation, two days off-site for preparation and reporting, and three days on-site gathering data. The assessment will encompass the following curriculum, instruction, and assessment categories:
(1) School-Community Vision for Learning
(2) Curriculum Organization
(3) Curriculum Development
(4) Instructional Methodologies
(5) Student Assessment Practices
(6) Climate for Learning
(7) Administration and Supervision of Curriculum, Instruction, and Assessment
(8) Teaching and Learning Resources
3.) Post in May for a DISTRICT CURRICULUM & COMPLIANCE DIRECTOR:
---TBD
4.) A 3-Year Strategic Plan:
---TBD