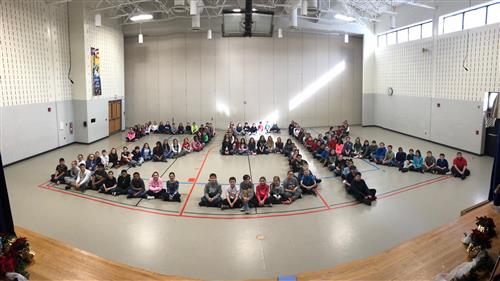 Grant Award brings Project Fit America to RIVERSIDE EAST
http://www.triborobanner.com/news/riverside-wins-exercise-equipment-1.2310992
Riverside East was awarded a $25,000 grant from Dannon and ShopRite for the Project Fit America (PFA) program. PFA is a non-profit organization that implements innovative Fitness in Education in schools. Dannon and ShopRite pledged over $100,000 to award the PFA program to a total of four (4) schools with the most vote via a grant contest that spanned the states of CT, MD, NJ, NY from January 5 to February 15, 2018.
The PFA program will give our school the following:
-State-of-the-art above ground outdoor fitness equipment and installation support.
-Indoor fitness program materials:
-1,000 Fitness Cups. These are fitness cups for explosive cardio, teamwork, challenge and cooperation with the kids.
-A squad set of 5 Sports Hoops. The hoops are 3 pounds in weight and great for creating upper body strength, cardio, abdominal training and development.
-A squad set of 5 heavy ropes for upper body strength development.
-Ten medicine balls for upper body strength development.
-Pacer cadence CD. Activity led in an area as small as 43-60 feet. This activity provides outstanding cardio training with "beeped" cadence the kids shuttle run in timed sequences in progressively faster sequences.
-Lesson Plan Support Materials. Essential school supplies such as 6 sets of laminated skeleton bones and PE Music to accompany the most popular lesson plans. As well as unlimited certificates and ribbons for award and incentive for the students!
-Comprehensive Core Curriculum for the PE Teacher.
-Teacher training at the school site with a PE Fitness Specialist from PFA this fall to teach how to use all the equipment, lessons and materials. The program will be integrated into the school and used on a daily basis.
-$7,000.00 cash stipend to use toward installation of the outdoor equipment component and/or to further enrich the schools' overall physical education program.
Before the program launches this fall, we will pre fitness test students to gather their base line and repeat those tests next spring to track and document fitness improvements in the students.
We will be hosting a media day and Opening Day Kick off in the fall after the school has been trained in the program. This event will feature the students providing demonstration of the program.
About Project Fit America (PFA)
PFA is a national nonprofit organization that creates sustainable and innovative broad based fitness programs in schools. PFA programming includes state-of-the-art outdoor fitness equipment specifically designed to address the deficit areas where children fail fitness tests; indoor fitness equipment; a dynamic curriculum with games, activities and challenges; on-site teacher training.
PFA is in its 28th year of working with schools in over 1,000 schools in over 300 cities in 46 states. Schools report increased motivation, participation and physical improvements in their students, along with parents and faculty becoming more involved in choosing fitness activities over sedentary lifestyle habits.
Fast Facts on the benefits of physically active children.
-Source: American Academy of Pediatrics Council on Sports Medicine and Fitness.
Better thinking skills. Studies show that people who exercise more are sharper mentally. The effects may be almost immediate. One study found that kids scored higher on math and reading comprehension tests after exercising for 20 minutes.
More confidence. Studies have found that kids who are physically active are more confident. In turn, that confidence may improve their academic performance, too. Active kids tend to get better grades. Though there could be a lot of reasons for that, including brain benefits, part of it may be better self-confidence.
Better moods. Many studies have found that kids who exercise feel happier. Physical activity releases brain chemicals that are natural stress fighters. Just about any physical activity seems to help. Physically active kids are better at managing their moods and have fewer mood swings, too.
Sounder sleep. Kids who exercise regularly fall asleep faster than other kids. They also stay asleep longer. The more vigorous the activity, the bigger the sleep benefit. Getting enough sleep lifts moods, improves judgment, and boosts memory.
Fast Facts –Childhood Obesity in the United States
Since 1980, the U.S. Surgeon General reports the rates of childhood obesity have tripled. Government estimates say there are 6 million American children who are now overweight and an additional 5 million who are on the threshold of becoming overweight.
Doctors are seeing more children with what we typically consider adult diseases such as gallbladder disease, sleep apnea and Type 2 diabetes.
Health experts indicate this may be the first generation not expected to outlive their parents due to the health problems associated with obesity.