Community Eligibility Provision (CEP) for Riverside West and East Elementary

RIVERSIDE ELEMENTARY WEST AND EAST ARE ELIGIBLE TO RECEIVE A NUTRITIONAL BREAKFAST AND LUNCH EACH SCHOOL DAY AT NO CHARGE TO YOUR HOUSEHOLD. THIS PILOT PROGRAM IS EFFECTIVE FOR THE 2019-2020 SCHOOL YEAR.
Homework Helpers will run every other Tuesday and Thursday starting on November 19th.
First Quarter Honor Roll Students
With Distinction
Madelyn Battaglia, Nathan Beecham, William Byrne, John Chilleri, McKenzie Chimock, Thomas Collins, Michael Connor, Kyle Connor, Santino DAmico, Leah Diegnan, Steven Fuentes Perez, Ivy Gao, Christopher Graff, Adrianna Hoover, Gabrielle Jordan, Brooke Kalteski, David Keiper, Benjamin Kulikowski, Claire Ledoux, Matthew McKeefery, Grace Munley, Kathryn O'Hora, Payton Oustrich, Brady Pica, Abigail Wilce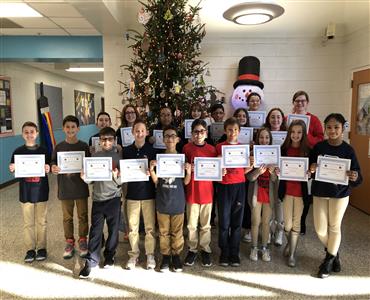 Honors
Anthony Battaglia, Alexandra Battaglia, Gabriella Blasi, Nicholas Bohenek, Logan Borent, Cooper Borowski, Josue Cruz, Angelo Damico, Odayla Gomes Cardoso, Mackenzie Keller, Eduardo Ortiz, Bella Peters, Jason Posluszny, Tierra Schiavo, McKenzie Schifano-Nichols, Ethan Slocum, Kaysha Vasquez, Kiley Williams, Kylie Zabriski