Parent Teacher Conferences will be held virtually on Monday, April 19th from 12:15-3:15 PM. Please click on the link below to sign-up for a conference. Thank you!
Mrs. Peoples Web Page
Riverside School District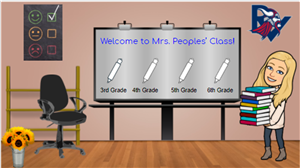 2020-2021
Grades 3 - 6: Intervention and Enrichment (I and E)
Grades K-2: Social Emotional Learning (S.E.L.)
Grades K - 12: Gifted Instruction
*Please sign up for Second Quarter Parent Teacher Conferences at https://www.signupgenius.com/go/10C0D45AEA82DA7FCC52-second
This year I will be a specials teacher at Riverside East and Riverside West as well as the gifted instructor for grades K-6. I will be teaching Intervention and Enrichment at East and Social Emotional Learning at West. Each student will have one 30 minute class period in the six day cycle. I am excited to work with all of the elementary students this year.
If you have any questions or concerns, please contact me via email at hpeoples@riversidesd.com.
Lessons and Resources can be accessed on Google Classroom
To log into google classrooms:
For User Name:
1. First 3 letters of last name
2. First 3 letters of first name
3. The year of graduation
4. @riversidesd.com
Example: peohei20@riversidesd.com
For Password:
1. rsd
2. Student Id Number
Example: rsd123420
Google Classroom Login Codes:
Grade 3: I and E: a5maobg
Grade 4: I and E: wl7wyio
Grade 5: I and E:

fsvrdo5
Grade 6: I and E: hlrklru
Grade 2: S.E.L.: 775jf3z
Grade 1: S.E.L.: qw25blw
Kindergarten: S.E.L.: p5mog3b
Grade 3 and Grade 4: Gifted: ELA cufgf2u
Grade 4: Gifted: Math xu7q74j
Grade 5: Gifted: ELA clc7q42
Grade 6: Gifted: Math spwkawp
Mrs. Peoples
Social Emotional Learning Teacher, Grades K-2
Intervention and Enrichment Teacher, Grades 3-5
Gifted Education Teacher, Grades K-12
Contact Information:
Phone: 562-2121