On Thursday, April 7th, 2022, parent teacher conferences will be held virtually from 12:15-2:15 PM.

Please email me at hpeoples@riversidesd.com if you would like to schedule a conference.

I'm looking forward to speaking with you!

Second quarter parent conferences will be held this Thursday, Feb. 3, from 2 pm - 7pm. If you would like to sign up for a conference time, please email me at

Thank you!
Mrs. Peoples Web Page
Riverside School District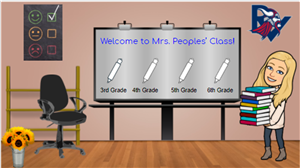 2021-2022
Grades 3 - 6: ELA Intervention and Enrichment (I and E)
Grades K-2: Social Emotional Learning (S.E.L.)
This year I will be a specials teacher at Riverside East and Riverside West. I will be teaching ELA Intervention and Enrichment at East and Social Emotional Learning at West. Each student will have one 30 minute class period in the six day cycle. I am excited to work with all of the elementary students this year.
If you have any questions or concerns, please contact me via email at hpeoples@riversidesd.com.
Lessons and Resources can be accessed on Google Classroom
To log into google classrooms:
For User Name:
1. First 3 letters of last name
2. First 3 letters of first name
3. The year of graduation
4. @riversidesd.com
Example: peohei20@riversidesd.com
For Password:
1. rsd
2. Student Id Number
Example: rsd123420
Mrs. Peoples
Social Emotional Learning Teacher, Grades K-2
Intervention and Enrichment Teacher, Grades 3-5
Gifted Education Teacher, Grades K-12
Contact Information:
Phone: 562-2121