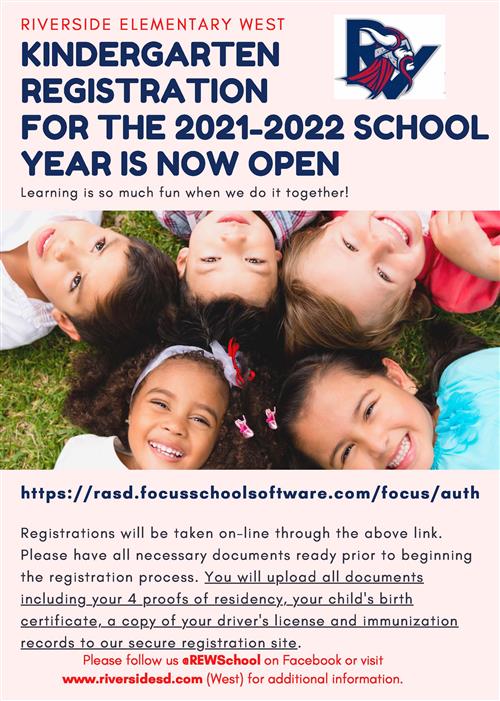 KINDERGARTEN REGISTERATION 2021-2022 SCHOOL YEAR
We are looking forward to welcoming your child into our kindergarten class next school year! Registeration will be virtual via our new FOCUS portal this year!
If your child attends a pre-k program the local preschools will be given a flyer with information and the link to register once it is open. Use this secure link to begin the registeration process:
Registeration Link (click)
The link will also be posted on our webpage as well as our Facebook Page @REWSchool.
Kindergarten screening will be held in late July or early August.
Riverside Elementary WEST –
COVID-19 REPORT: https://docs.google.com/document/d/1XIVgCleZPFsSk1xun3n9tW3z0GkzoiGf/edit?usp=sharing&ouid=103039291524060764718&rtpof=true&sd=true

* You will be able to find social media communication specific to Riverside West by following us on Facebook. You can follow our school page at Riverside Elementary School West (Nicole VanLuvender), @REWSCHOOL.
A special video was made just for you. You can access it on our Rivesdide West Facebook Page or by clicking HERE!